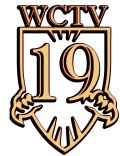 The San Francisco/Northern California Chapter of The National Academy of Television Arts and Sciences awarded "Unleashed 12.02.11″ with a 2011 Student Emmy/Award for Excellence. Winners were announced on April 16, 2012.
The show was anchored by seniors Jennifer Hayes and Sierra Lemay.  It features stories about a Convoy of Hope event that took place at Cal Expo in early November.  Also, the show features stories about the Placer Food Bank, the District's new Energy Specialist, a freshman roller queen.
Please click the picture to watch the show.