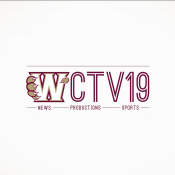 Go Fund Me Link: CLICK HERE FOR GO FUND ME LINK
The Whitney High School Broadcast Program, WCTV19, is an award-winning community television station. In March, the program won STN's "Best Taped-Daily" show in the nation.
Over the last five years, several students have entered prestigious film and broadcast journalism colleges.
Today, the program is hoping to purchase a video production trailer.
The purpose of the production trailer is to hold all of our live-streaming video equipment. The goal is to decrease setup time to provide students with more opportunities to produce, direct, and film community events.
The trailer would help students in several ways. They would be able to direct a live broadcast, with graphics, and on-air talent, that is professional and is modeled after what is seen in the television industry.
The WCTV19 program already owns all the broadcast video equipment that would go inside the trailer. We just need the trailer to take the equipment to the events.
Thank you for your time and for your consideration.
If you have any questions, please contact:
Ben Barnholdt
Broadcast Teacher
Whitney High School
wctv19.com
bbarnholdt@rocklinusd.org